Buying a gift for your Priest can be tricky when you know they receive so many at this time of year. Buying them something useful, commemorative and personalized is a good way to ensure your Priest knows how much thought you've put into the gift and how thankful you are for their services.
Gifts for Priests they will treasure and enjoy
There are many occasions when you may wish to buy your Priest a gift such as ordination, anniversary of ordination (Golden Jubilee) as well as religious holidays, birthdays and as a thank you. Featured here is a selection of gifts I've put together which your Priest will not only be able to use but will treasure as a valued keepsake.
.


Unique Gifts For Priests
Priests receive many religious
themed gifts each year, including icons, religious art work and verses which they appreciate but which can accumulate.
I have read of one Priest who has many storage boxes filled with such gift items.
If you want your gift to be seen, enjoyed and not gathering dust in a dark closet, check out this list for inspiration.
I have my top 5 Gifts For Priest followed by Golden Anniversary of Ordination Gift Ideas and more.
A Personalized Journal For A Priest
Many Priests enjoy keeping a journal, details of sermons, important visits, ceremonies, favorite verses and so on. As such an attractive journal is a practical gift which will be enjoyed. If the journal is personalized with a name, inscription and so on, it has the added value of being a keepsake.
This stylish journal has been Handcrafted by artisans in America from cherry wood. It has a  natural beeswax finish that highlights the attractive woodgrain. It lies flat when open and has a generous 140 lined pages of archival cotton paper.
Personalization Information: The cover may be personalized with a name, personal message, date of celebration etc. If the gift is for a Priest's Golden Jubilee for example you can add the date of ordination and the anniversary date.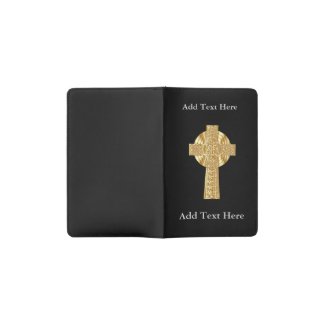 Featured here is a notebook sized journal in moleskin.
You can edit the text template fields on this notebook, change the background color and add a different image if desired.
This notebook features an ornate Crucifix. It is waterproof and sturdy and is handmade in California.
Many Priests enjoy a game of cards and as such a personalized deck is a great idea to commemorate a special occasion. The gift is functional, fun and makes a great keepsake!
You can add your own image to the front as well as editing the text template fields.
Add a special inscription to commemorate the occasion.
3.

A Gift Card
A gift card may seem impersonal but it is a great way to allow your Priest to buy something he / she really wants or needs. They are always appreciated and are less impersonal than giving money.
The value varies and you can find something to fit your budget. These can be given via email or sent with a card.
4. Themed Gift Basket
Your Priest is sure to have a hobby. Perhaps it is golf, gardening, cooking? Whatever it is there  is gift basket to compliment it. Gift baskets are great as they often contain consumable items such as food and drink and as such they don't take up space (which your Priest likes!).
If the gift basket is based on something your Priest is passionate about it doesn't need to have a religious theme. Don't forget Priests have a lot of religious themed gifts. Don't be afraid to gift them something based on their other interests.
That said, for commemorating an ordination anniversary, a religious themed gift is appropriate.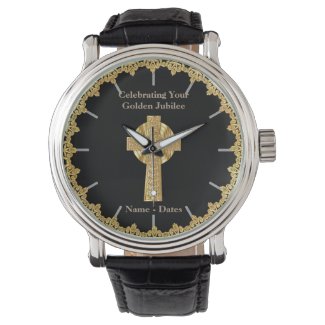 Zazzle has a wonderful range of watches which can be personalized by adding images, text and changing the background colors. Different styles, strap types are available. Featured here are a few religious themed ones which may suit a commemorative anniversary of ordination gift.
This is a great practical gift, stylish too!
Priest Golden Jubilee Personalized Wrist Watches 
Personalized Gifts For Priests – Commemorative
Featured next are a range of personalized gifts for Priests that you edit online when you order with their name, important dates and more. These can be used for Anniversary of Ordination, Golden Jubilee, Special Occassion, A Religious Holiday or to say Thank You. Whatever your need you will find something unique for your Priest here. Page down to view the whole range which includes gifts, cards and gift wrap.
Stained Glass Design Jigsaw Puzzle Priest Gift
Stained Glass Window Jigsaw Puzzle personalized with the Ordination Anniversary details of your Priest. A fun gift, unusual and a great keepsake!
The stained glass window offers a great challenge to fans of Jigsaw puzzles and there are more in this range.
Your Priest does have a sense of humor too, so don't be afraid to buy something that is funny. Stay away though from controversial topics which he may find embarrassing. Other suitable gifts include gift certificates, other items related to his/her hobbies. If your Priest enjoys music (many do) an iPod, Musical CD or other music themed gift may be appreciated.
LeahG is a Gift Ideas Generator
,
Designer
, Blogger and an approved associate of various carefully sourced merchants incl. as a participant in the Amazon Services LLC Associates Program, an affiliate advertising program designed to provide a means to earn fees by linking to Amazon.com and affiliated sites.